Secure homes with Spanish Property Choice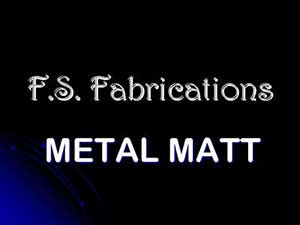 Spanish Property Choice always strive to offer our vendors and future clients looking for properties for sale in Costa Almería the very best service providers within our province.
F.S. FABRICATIONS
Come very highly recommended by us. Metal Matt as he likes to be known has over 20 years experience in the fabrication industry. He prides himself on offering a service and price second to none. He uses only the very best materials and offers a full powder coating option.
Why wait for a fabricator who still lives in the Iron Age? Call or email Metal Matt today for a FREE no obligation quote........
You may see on many properties for sale in Almería, Spain, decorative metal frames on windows and doors, on Villas, Apartments, Townhouses, Country properties and Commercial premises. Yes these metal frames known in Spanish as Rejas, do look very decorative and were originally used in Spanish history to secure properties, as most houses did not have actual glass in the windows because of the extreme heat and also the cost of glass doors and windows were generally out of reach financially for the Spanish residents.
Now with todays modern society and the development of air conditioning this no longer is an issue, although you will still see from time to time, old cortijo's and cave houses without windows and still occupied by Spanish families which to be honest is very endearing.
However in modern society not many of us would even consider living in a property without windows and doors....I remember when I was growing up, being able to go to my old granny Knights house in Dudley road, Birmingham and yes she had a door! but it was always open to friends and family, day or night.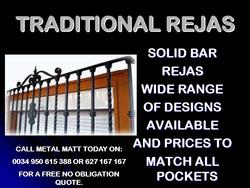 Although similar traditional values are adhered to in this beautiful province of Costa Almería, most of us who have moved here to Spain would feel more comfortable in the knowledge that our properties are secure and safe.
METAL MATT ONLY USES THE BEST QUALITY MATERIALS.........
All materials are sourced locally and Metal Matt has been trading with these metal suppliers for over 8 years, affording you his clients the best prices. Not only does he offer great prices, he knows that by using these long standing suppliers for all these years, they know and appreciate his high standard of requirements to be able to fabricate only the best products for his clients.
METAL MATT WILL NOT COMPROMISE ON QUALITY!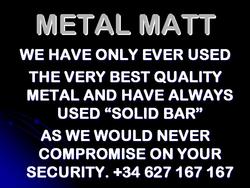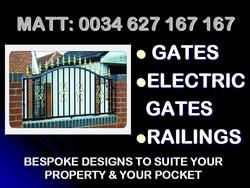 BESPOKE STAIRCASES, RAILINGS AND ALL TYPES OF FABRICATION TO YOUR OWN SPECIAL REQUIREMENTS. MADE TO MEASURE.....