Golf Courses
Almeria's 7 of the best golf courses.
Desert Springs near Cuevas del Almanzora, an established desert style competition course.
Desert Springs Golf resort has beautifully manicured fairways with a wild west style back drop of rocks and cacti. It opened in 2000, and has quickly became one of the most popular golfing destinations in Spain. Located high on a plateau above the Almanzora valley, it has awe inspiring views of the surrounding mountains and a cool Mediterranean sea breeze can be enjoyed by players any time of the year.
Properties within golf courses offer a singular charm and ambience that is incomparable. Combine this with specially tailored and exclusive golf memberships, with service that creates a special sense of "belonging" and with that tremendous feeling of "well being" that comes from playing golf in a desert environment, such as Arizona is justly famed for, and the benefits of belonging to the Desert Springs Golf Club are apparent.
Membership categories available at Desert Springs include Honorary, Founder, Open (ordinary full members) Annual and Junior. However, at Desert Springs, there is also a special and exclusive category - Resort Membership.
The key to entry to this privileged group is property ownership on the Desert Springs Resort itself. This is because the Club only offers the chance to nominate Resort Members to the registered owners of residential properties on the Resort.
This class of membership is privileged because Resort members will enjoy a reduced level of joining fees and annual subscriptions. Further, when new memberships and public rounds become scarce or cease to be available as a result of the limits on course capacity arising from the Clubs quality golf objectives, then those qualifying for Resort membership will have priority for access to the Club.
Access to membership will therefore be primarily through property ownership, ensuring the future exclusivity of the Club as well as enhancing property resale values, which will carry with them the facility of nomination. Ownership of property on the Resort will have clear and valuable advantages.
Resort membership itself is divided into two categories to cater for the different needs of those who live in their property on the resort, Resort Resident members, and those who cannot take full year round advantage of the facilities, Resort Non-Resident members. Resort Non-Resident membership has been specifically designed for those who live overseas or elsewhere in Spain, using their property for occasional visits and as a holiday home or who, for whatever reason, only plan to play a limited amount of golf.
Resort Non-Resident members have all the same privileges as Resident members, i.e. as per usual golf club membership, but pay a smaller joining fee and annual subscription that provides for 40 rounds, reflecting the fact that they will not be using the golf course full time.
In the event they are able to play more from time to time, then Non-Resident members may play up to 35 extra rounds at the Members Special Green Fee Rate, currently more than 50% and 45% off the Public Green Fee during High and Low season respectively. Non-Resident members, during the term of the year of membership, also have the opportunity to invite up to 75 Members Guests and an unlimited number of Family Member Guests who shall both benefit from more than 50% and 45% off the Public Green Fee during High and Low season respectively.
Resort Resident members on the other hand pay a larger joining fee and annual subscription, albeit still less than Open members, but have, during the term of the year of membership, unlimited Free rounds and the opportunity to invite unlimited Members Guests and Family Member Guests with their guests receiving more than 50% and 45% off the Public Green Fee during High and Low season respectively.
Both Resort Non-Resident and Resident members will also benefit from: -
Member's Advance Priority Reservation of Tee times.

Affiliation to the Real Federaciòn Española de Golf.

Eligibility to participate in Monthly Medals, Mixed Events, Running Competitions, Individual

Stablefords and major club events; for example, Captains Day and Club Championships.

Member's Competition and Handicap Committees to liaise with the Club.

A free one-hour swing appraisal from a member of the Desert Springs Golf Academy staff.

Optional attendance at the free Rules, Courtesy and Care programme.

Privilege discount scheme for reservation of golf buggies.

Privilege discount scheme for reservation of golf lessons.

Privilege discount for purchases from the Club House Boutique.

Reciprocal arrangements with other Golf Clubs of a similar standing in Spain and Europe.

Clubhouse and Member's events, dinner dances, quiz and theme nights.
For its own first time purchasers only at Desert Springs, our parent company is providing a Resort Non-Resident Membership, completely Free of Joining Fees, to the person nominated by the first registered purchasers of each residential property. This in turn includes the privilege, at the election of the Member, to nominate one additional "Partner", and one Junior Resort Non-Resident and one Junior Resort Non-Resident Partner Member; again, Free of Joining Fees, with a current value of 31,880.00€.
The Club, for its part offers the Resort Non-Resident Partner members a discount of 25% in the annual subscription, reducing the total adult subscription fees payable from 3.402,00€ to 2.977,00€, subject only to receipt of application and payment of the annual subscriptions not later than 4 weeks following the signing of the property deeds.
TALK TO US ABOUT OUR PROPERTIES FOR SALE ON DESERT SPRINGS GOLF RESORT FOR A GREAT DEAL
PLEASE CALL: 0034 950 61 53 88 or email [email protected].
---

Valle del Este golf & spa resort a very good course to play for all levels. The course is located 12 minutes drive from Mojacar Playa just on the edge of Vera. Opened in 2002 it is a challenging 18 hole course set in rolling hills and steep cliffs.
At the center of the course, there is a club house, and a driving range for you to practice on and a putting greens to allow sharpen your aim. https://www.valledeleste.es/en/
Golf Club is 106€ per month which allows both property owners in Valle del Este or Non-resident visitors to benefit on different advantage and services offered. Property owner are entitled to a discounts to green fees.
| | |
| --- | --- |
| GREEN FEES | PRICE |
| Green Fee 18 holes | €69 |
| Green Fee 9 holes | €39 |
| | |
| --- | --- |
| RENTALS | PRICE |
| hand trolley | €3 |
| Electric cart 18 holes | €18 |
| Electric cart 9 holes | €10 |
| Buggy 18 holes | €37 |
| Buggy 9 holes | €27 |
| | |
| --- | --- |
| PRACTICE SHEET | €2 (25 balls) |
| PRACTICE CARD | €14 (250 balls) |
| | | |
| --- | --- | --- |
| GREEN FEES BONUSES | 18 HOLES | 9 HOLES |
| 5 Green Fees | €225 | – |
| 10 green fees | €400 | €300 |
| 20 green fees | €760 | €500 |
| 50 green fees | €1750 | €1000 |
The Valle del Este Golf Club was born in 2003. Since then, it has offered golfers of different nationalities the chance to subscribe and enjoy its facilities, social relations and privileged environment.


Being part of the Club means benefiting from different advantages and services that make it something special and exclusive. Among them are:

- 10% discount on Proshop.

- 10% discount in the Restaurant - Pub Golf.

- 10% discount on massages and treatments at the Spa & Wellness Center.

- 10% discount on accommodation at the Hotel Valle del Este.

- Discounts on golf lessons and driving range.
- Special discount on registration for tournaments organized by the club.
- Special prices in green fees for subscriber guests.
- 2 free accesses per month to the Spa facilities. Special price for the rest of accesses (Previous reservation required).

- Free access to the gym.
- Exclusive use of the club room lockers.

- Benefits derived from correspondence contracts with the rest of the Golf Courses in Spain.

- Special bonuses for the use of buggies.

- Free manual cars.
*All prices include VAT.
The club reserves the right to modify these rates and conditions.
Please check the expiration date of the vouchers in our Pro-shop.
WHY NOT TALK TO US ABOUT OUR AMAZING PROPERTIES ON THE Valle del Este Resort. We have showcased many of these superb properties on our TV show on Channel 4, Sun, Sea and Selling Houses and they have always been very popular with our viewers and buyers alike.
Call: 0034 950615388 or email [email protected] for further information on what we have available exclusively to us.
---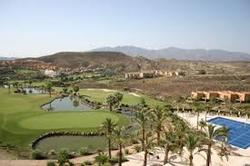 Mojacar we have the popular Marina Golf course which is situated close to the beach between Mojacar & Garrucha a fairly established course with great sea and mountain views and close to a number of great hotels. https://www.marinagolf.com/en/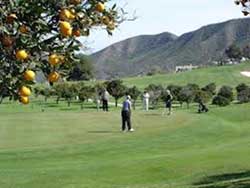 Almeria´s oldest course is Cortijo Grande, a 9 hole course situated a the foot of the stunning and beautiful Sierra Cabrera mountain range. (Please check opening)
Another fairly new course is Playa Macenas just along the coast from Mojacar Playa.
---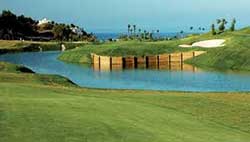 If you head south of Mojacar you come to the Cabo de Gata, there you will find the Alboran Golf resort that was opened a few years ago. Known as challenging course for all players.
An inland Golf resort is La Envia Golf located in the municipality of Vicar. This golf course was built in 1993 and is an 18 hole par 70 course.
We have a selection of properties available on our local golf resorts. Pets are welcome with the communities permission and as long as they are well behaved. (Please check prior to any offer)
---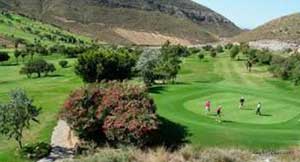 FOR FURTHER INFORMATION ON OUR SELECTION OF PROPERTIES FOR SALE ON ANY OF THE ABOVE GOLF RESORTS, PLEASE CALL:
0034 950 615 388 or 653 722 290 or Email: [email protected]
---
Disclaimer: The information provided by Spanish Property Choice S.L. on our website www.spanishpropertychoice.com is for general informational purposes only. All of the information on our websiteis provided in good faith. We take every care and precaution to ensure that information published on this website is accurate when posted and regularly updated, however Spanish Property Choice S.L. cannot be held liable for its accuracy or timeliness and Spanish Property Choice S.L may change the information at any time without notice. Spanish Property Choice S.L make no representation or warranty of any kind, express or implied, regarding accuracy, adequacy, validity, reliability, availability or completeness of any information on the website or mobile applications either directly or indirectly including any other website linked to it. You must not rely on the information on the website and you acknowledge that you must take appropriate steps to verify this information provided with your legal representative prior to acting on it.