Bringing your pets with you to Spain
TRAVELLING TO COSTA ALMERIA WITH YOUR PETS
Sharon and Stephen transported their pets Max the dog and Ginger their 15 year old cat to Spain with them when they moved to Almeria.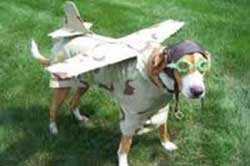 No we did not make them fly themselves or pack them into a suitcase obviously!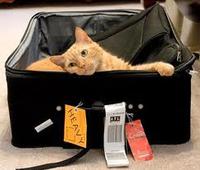 We chose to arrange for them to travel on the plane with us so that we could be there prior and on arrival in Spain" said Sharon, we also felt it would be the quickest and offer the least stress for ginger, as she was feeling her age a little and we thought driving here would have been too long & too confined for a cat that had never even been in a car.
I can not say it was cost effective because it was not, 800 pounds for the 2 of them and when you consider it cost us 40 pounds per person it seemed a bit bizarre, however it was worth every penny.
The airline made sure they had transportation crates suitable for their individual sizes, they made sure they had food and water for the journey and got them off the plane toot sweet on arrival. However I must say hearing Max barking in the hold below whilst taking off bought a lump to my throat, but he was only a puppy at this point and it was all new for him, but since arriving in Spain has had an amazing life running the land in the sun with his new Spanish amigo Shane, a Spanish dog we acquired and they are now inseparable. Ginger had 3 wonderful years lying in the sun before we sadly lost her at 18 years old.
Spanish Property Choice have had many clients wanting information on how to bring their pets over once they have purchased their dream home. Many choose to drive over however this is not for the faint hearted it can be a long hot journey but it is feasible to do this, but we would suggest to try and do this during the winter months rather than the hot summer months.
We have many clients use a service called Petair, this is a company who offer a full range of services with the advantage and opportunity to get a vet to come to your own home to complete any veterinary aspects of your pet's flight, this has the advantage that your pets can stay with you for as long as possible.
Many companies demand that the pets go into their kennels days before their flight, which is no good for the pets who are much happier in their own home.
WHAT DOCUMENTATION DO YOU NEED
The documentation needed to fly a pet internationally can be staggering. From rabies Certificates to pet passports and Veterinary certificates, the regulations also can change from day to day, so rather than giving you information that may be out of date tomorrow, we would advise you to contact your local vet for reliable, professional and up to date data.
VETS IN SPAIN
Since living in Spain Sharon and Stephen have had to use the services of a local vet on a few occasions, recently for Max who had to undergo an operation, who as you can see felt very sorry for himself, however the service was superb.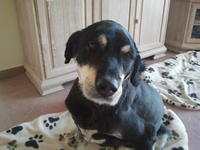 The vet spoke in English and we were extremely happy with the outcome, again it is not cheap 400€ to have a lump removed and aftercare, although I have been told recently that compared to the UK prices this was not too bad. You can take out pet insurance should you wish too and we are more than happy to guide and advise on only the very best service providers to meet your needs.
REGULATIONS GOVERNING DOGS HERE IN SPAIN..... Law 50/99 which could affect you and your pet.
The list below is the current list of dogs considered to be on the dangerous list and must be registered with the local town hall that you reside in.
- Pitt Bull Terrier.
- Staffordshire Bull Terrier.
- American Staffordshire Terrier.
- Rottweiler.
- Dogo Argentino.
- Fila Brasileiro.
- Tosa Inu.
- Akita Inu.
- Doberman.
All dogs over 25 Kilos in weight.
All dogs that have any record of human or dog aggression or any dog that shows aggressive behaviour or any dog considered by the authorities to be dangerous, must now be registered and in possession of a special Licencia Municipal.
Spanish Property Choice would always recommend you seek advice from both your local authority and from your choses vet who should be aware of the legal requirements and advise on the current status of your dog.