Bringing your pets with you to Spain
TRAVELLING TO COSTA ALMERIA WITH YOUR PETS
UPDATE AFTER BREXIT -
Travelling with your cat or dog may have changed from 1st January 2021, depending on where your pet's passport was issued and where you are actually travelling to.
If you have a pet passport issued by Spain or another EU member state, you can use it to travel with your pet to the UK and elsewhere in the EU.
However, a GB-issued EU pet passport is not valid for travel to the EU or Northern Ireland.
---
PET TRANSPORTATION YOU CAN TRUST - SUPPORTING A PET CHARITY AT THE SAME TIME
We are a dog rescue & a fully registered charity (CIF No: G01720309) in Spain and we drive our own vehicles and rescue dogs to their new homes every month.
We often have space to transport a few private pets.
We will treat your dog as one of our own ensuring that whilst in our care they are well looked after, kept safe, loved, fed & watered. We truly love, care about & understand dogs as it's our vocation to help them in rescue.
We can take away the headache of getting all the necessary paperwork together for the journey - we do it for our own rescue dogs so it's second nature for us and one less thing less for you to worry about.
We drive in fully UK & EU authorized and DEFRA approved vehicles with collections & pick-ups in Essex.
We can help you but you will also be helping other rescue dogs as all profit from the transport fee will go towards the welfare and up keep of other rescue dogs in our care. So your dog will be helping another homeless dog who is not as lucky as them! For this reason our transport costs are very competitive.
Please p.m. for more details, call us to chat about your requirements on +44 7779 588735 (UK mobile or by WhatsApp) or email
[email protected]
if you think we can help each other.
---
SHARON & STEVE OF CHANNEL 4, SUN SEA AND SELLING HOUSES STORY
When Sharon and Stephen moved to Spain in 2005 they transported their pets with them. Max their dog a puppy at the time and Ginger their 15 year old cat made the journey by air to their new life in the sun with The Garner family.
No we did not pack them into a suitcase obviously!
We looked at all options but chose to arrange for them to travel on the plane with us so that we could be there prior and on arrival in Spain, we also felt it would be the quickest and offer the least stress to Ginger, as she was feeling her age a little and we thought driving here would have been too long & too confined for a cat that had never even been in a car.
I cannot say it was cost effective because at the time it was not, 800 pounds for the 2 of them and when you consider it cost us 40 pounds per person it seemed a bit bizarre, however it was worth every penny. Of course this was 18 years ago now, so please check flight prices with the individual airlines for up to date information.
The airline made sure they had transportation crates suitable for their individual sizes, they made sure they had food and water for the journey and got them off the plane toot sweet on arrival. However I must say hearing Max barking in the hold below us whilst taking off brought a lump to my throat, but he was only a puppy at this point and it was all new for him.
We never regretted once bringing them to Spain with us, Max had an amazing life running the land in the sun with his new Spanish amigo Shane, a Spanish puppy we acquired when we got here. They were inseparable as you can see by this picture until we lost Shane in 2018 aged 13 yrs old and our beautiful Max in 2019. Ginger had 3 wonderful years here lying in the sun before we sadly lost her when she was 18 yrs old.
We thought we would share our pet journey with you as we have been there and wore the T shirt so to speak and we get asked a lot by our clients on what way is the best way to bring their pets over once they have purchased their dream home with us.
Many of our clients have chosen to drive over with their pets in tow, however in our opinion this is not for the faint hearted listening to some of the stories. It can be a long hot journey for both the client and the pets but of course it is feasible to do this but it maybe better to find some pet friendly hotels on your journey and stop off once or twice to give everyone a break. Also we would suggest to try if possible to do the journey during the winter months rather than the hot summer months.
We have many clients use a service called Petair, this is a company who offer a full range of services with the advantage and opportunity to get a vet to come to your own home to complete any veterinary aspects of your pet's flight, this has the advantage that your pets can stay with you for as long as possible. (This is for information only supplied by our previous clients and must be checked by all future clients independently for the updated status of this company and their services. Spanish Property Choice will not be held responsible for any issues related to this or any other pet transfer company recommended)
Many companies demand that the pets go into their kennels days before their flight, which is no good for the pets who are much happier in their own home.
WHAT DOCUMENTATION DO YOU NEED (These may change at any time so please make your final checks)
The documentation needed to fly a pet internationally can be staggering. From rabies certificates to pet passports and veterinary certificates, the regulations also can change from day to day, so rather than giving you information that may be out of date tomorrow, we would advise you to contact your local vet for reliable, professional and up to date data.
VETS IN SPAIN
Since living in Spain we have had to use the services of a local vet in Albox on a few occasions, for Max who had to undergo an operation, who as you can see felt very sorry for himself at the time. When we lost Ginger, Max and Shane we can say hand on heart the service and support we received by all the vets and staff was superb. We now have a menagerie of animals all looked after by Pepe, Mika, Sam and the team of https://www.facebook.com/almanzoraveterinaria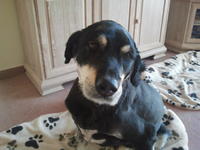 The vets speak English and we were extremely happy with the service. Prices well I can not say it was cheap in general but I have been told recently that compared to the UK prices what they charge is not too bad. You can take out pet insurance should you wish too and we are more than happy to guide and advise on only the very best service providers to meet your needs.
REGULATIONS GOVERNING DOGS HERE IN SPAIN..... Law 50/99 which could affect you and your pet.
The list below is the current list of dogs considered to be on the dangerous list and must be registered with the local town hall that you reside in. (This can change at any time so please check with your local town hall for an updated list)
- Pitt Bull Terrier.
- Staffordshire Bull Terrier.
- American Staffordshire Terrier.
- Rottweiler.
- Dogo Argentino.
- Fila Brasileiro.
- Tosa Inu.
- Akita Inu.
- Doberman.
All dogs over 25 Kilos in weight when in public must wear a muzzle.
All dogs that have any record of human or dog aggression or any dog that shows aggressive behaviour or any dog considered by the authorities to be dangerous, must now be registered and in possession of a special Licencia Municipal.
Spanish Property Choice would always recommend you seek advice from both your local authority and from your chosen vet, who should be aware of the updated legal requirements and advise on the current status of your dog.
(Spanish Property Choice accept no liability for any services provided by any service provider mentioned on this website)
Below are a couple of snapshots of The Garner pets. The black and white ones Doc and Rico (named after the TV producers of Sun Sea and Selling Houses Ricochet/Warner Bros) are new additions to the family and were rescued from Ameythyst Dog Rescue Spain. (If you would like to see how they became part of The Garner family then you can got to the Channel 4, UK website and catch up with series 2 of Sun Sea and Selling Houses)
---
---
---