Listing a property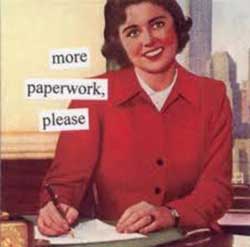 ... VENDORS ...
SPANISH PROPERTY CHOICE
REQUIRE THE FOLLOWING DOCUMENTATION PRIOR TO MARKETING ANY NEW PROPERTY IN COMPLIANCE WITH THE DECREE 218.....
TAKE ON CHECK LIST
We would require a copy of each of the documents listed below, if you are not on a community then of course the community fees and rules and regulations are not applicable to you.
The Expediente de Urbanistica is for any property built on rustic land since 2000 or if you have made any extensions to a property during this period again built on rustic land. We also require this document if your property has been registered on a license of antiquity (4 year rule).
ESCRITURA
NOTA SIMPLE (obtained within the last 3 months)
PASSPORT
NIE
RECENT WATER BILL
RECENT ELECTRICITY BILL
RECENT BASURA BILL
RECENT IBI BILL
RECENT COMMUNITY FEE RECEIPT
COMMUNITY RULES
EXPEDIENTE DE URBANISTICA
LICENSE OF FIRST OCCUPATION
SPANISH PROPERTY CHOICE CONTRACT
YOU NOW ALSO AS OF THE 1ST JUNE 2013 NEED TO SUPPLY AN ENERGY PERFORMANCE CERTIFICATE OR BE IN THE PROCESS OF APPLYING FOR ONE (PROOF WILL BE REQUIRED)
HOW DOES THIS HELP YOU OUR VENDORS?
Supplying this documentation forms part of the Decree 218/2005... it stipulates that any vendor using an estate agent must supply the above documentation to their chosen agent. Failure to do so renders any reputable compliant agent, unable to market your property (legally).
Spanish Property Choice have regular conversations with prospective vendors who tend to use a common phrase "well non of the other agents have asked me for this paperwork" well our response to that is, well in that case they are not doing the jobs correctly, they are not complying with the Decree and they are not helping consumer confidence!
Spanish Property Choice are here to help you secure a quick and efficient sale, supplying the paperwork allows us to do this, by having your paperwork checked and highlighting any outstanding issues that could hold up or lose you a prospective sale.
HOW DOES THIS HELP OUR PURCHASERS?
This process helps you our clients, by affording you complete consumer confidence! you can feel secure in the knowledge that any property Spanish Property Choice show you, has been pre checked by an independent solicitor and that the vendor of the property is pro active in helping the sale of their property which all adds up to a secure, stress free purchase for you.
OUR ULTIMATE GOAL FOR OUR
VENDORS AND
PURCHASERS.